Thesis Couture

Have you ever thought that your shoes could be designed by a rocket scientist, a former astronaut, and a tech guru?
If not, be ready, because your new dream high heels NO PAIN  by Thesis Couture is almost here!
What is Thesis Couture?
A Fashion Technology company based in LA.  A company that is reinventing the stilettos by using structure engineering.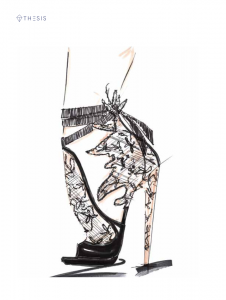 What is the difference?
Thesis shoes will be built around a patented internal structure made of high-grade polyester and TPU called the Thesis LIFT that stands for Load-balancing Interlocking Footwear Technology.
This will allow us to have our toe stay in a more natural position which will improve your balance and wear high heels will no longer be painful. It will be like wearing running shoes. This new technology will help you absorb impact and shock.
This shoe optimizes balance and better yet, reduce fatigue.
What is Thesis Couture's Mission?
To decouple beauty and pain and show how sexy and smart that can be.
CEO Dolly Singh a former recruiter at SpaceX, Elon Musk's rocket company. She is the founder of Thesis Couture.
If you want to be part of this technology and have a pair of these shoes. You better run and sign up to have a pair of high heel shoes. And feel like you are walking on the moon.
Pictures / sketches vía Thesis Couture
Sign Up for Our Newsletters