Plaid blazer and an extra layer
One plaid blazer, many ways to style it.
Plaid blazer –well!– Blazers in general have always been one of my favorite garments (since forever)
I personally think it adds a super stylish and chic tome to any look.
And since this is the last week of summer, I think it's a good time to start inventing and reinventing what you have in your wardrobe. –You can also invest– And this is also part of being sustainable.
THAT'S THE FUN PART!
In case you haven't read the blog post I wrote about the Sustainable Changes I'm doing, you can read it HERE
One garment, 4 ways to style it
This is one of my favorite capsules from my blog.
Share ideas about how we can reinvent the pieces in our closet. Make the most of them. And how I like to say it. "Getting the cost out of the investment".
Frankly one of the reasons why I'm like this, is because. In my house we were 4 women and everything we bought, we shared (with the exception of interior things for obvious reasons). We all used things in different ways and that set the tone for our creativity to grow in order to represent our own style.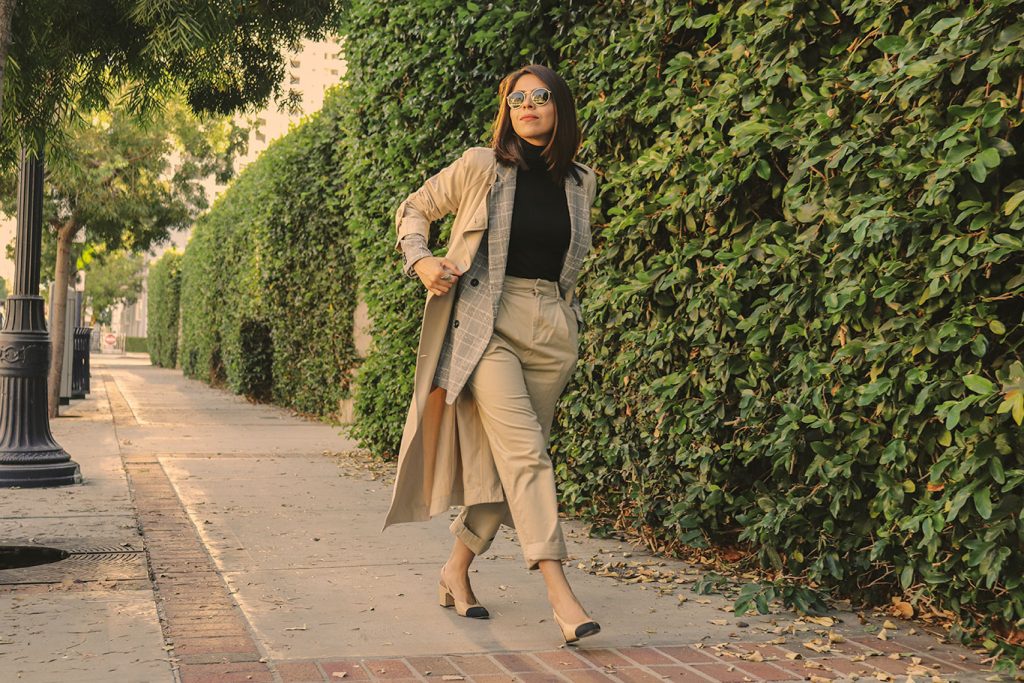 Plaid blazer, Trench coat and gloves
This fall look may be a little difficult to use in in Southern California. –But not impossible–
But it's something I'd definitely wear in San Francisco and in the other side of the coast, like New York.
The layers and gloves add that sophisticated and interesting look. And the best thing is that you can remove and put layers according to the temperature of the day. I also think this combo of colors is a total win win!