How a bring the 60s to my 2017 life
Bring the 60s to my 2017 life.
I don't know if I've mention this latelly, but when I travel. I make my outfit planner according to the weather and  the places I'm going to be visiting each day.
This look was when we were in London. This particular day we  (Ricardo and I) were going to visit:
Change of Guard
Tower of London
Tower Bridge
Piccadilly Circus
We met with one of Ricardo's family member from Germany (that happens to be there the same day). After that, we have some drinks at Sketch. Fun fact… Sketch dress code:
Art smart.

We ask our guests to dress with a sense of style and character.
LOVE IT!
Getting some inspiration from 60's Fashion icons such as:
Twiggy,Jean Shrimpton, Mia Farrow, Jane Birkin.
And of course! Mary Quant the London designer and  icon who creates the the miniskirt.
Sixties trend 2017
The Sixties are described as 'swinging' for a reason: fashion flourished and fluctuated.

Vogue UK
There's  a clear sense of 60's during many of the 2017 fashion weeks. Colored tights, Crochet (which has been around for quite some time).  Miniskirts and Mini Dresses.
Mini dress, beret and a trench coat. Can't believe that was enough for London weather. You can read here about my article when "Travel to London" here.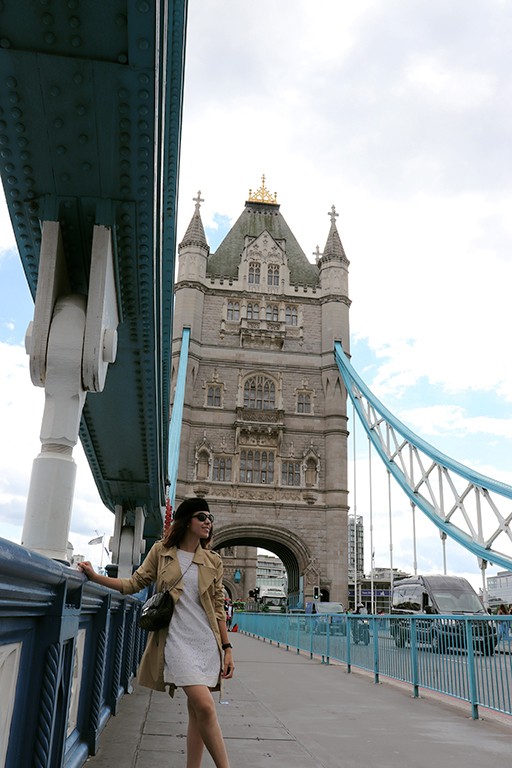 Embrace 60s Style 
I love the fact of choosing a decade —Speaking about Fashion— and embrace it. Make it "mine" and feel comfortable and pretty –Very important for me–
This was my first time in London, and the number one thing that comes to my mind when I hear "London" is
"The Beatles", Fashion –of course! Mary Quant specifically– The Royalty.
My Stylosophy Look 
Styling a mini dress lace –for some year ago– trench coat, a beret and my slingback shoes.  An effortless look that  allows me to walked and enjoyed beautiful London.
No cold and looking chic! ✨