How to Start a Sustainable Closet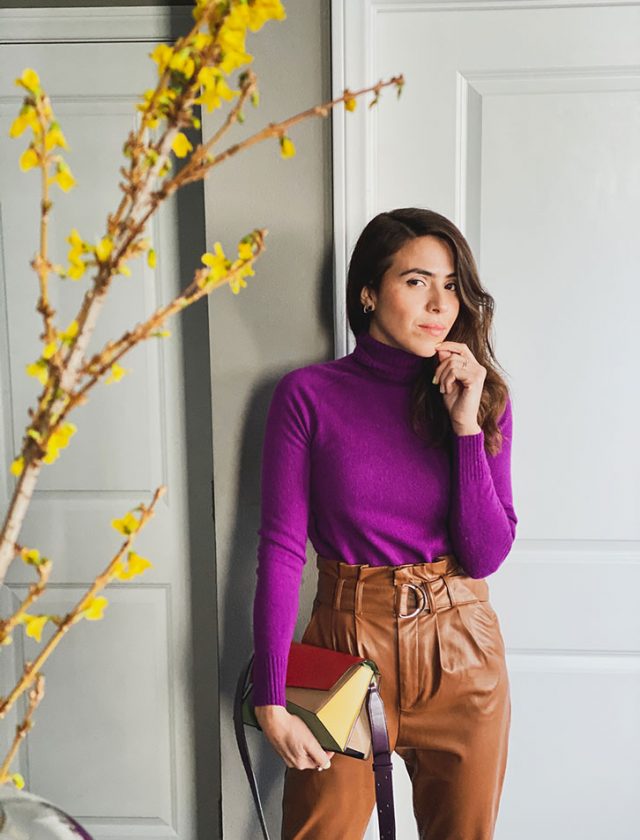 How to Start a Sustainable Closet
Sustainability is a word that we've been hearing more consistently in the past few years. As a result, people have become more educated on this topic, and more and more people are coming together to create awareness about the environmental impact the fashion industry causes in the world. To start talking about sustainability, I'll divide this topic into several blog posts. First things first…
What is sustainability?
Sustainability is a complex concept. The most often quoted definition comes from the UN World Commission on Environment and Development:
"Sustainable development is what meets the needs of the present without compromising the ability of future generations to meet their own needs."

Source

Sustainability for me means…
Sustainable fashion means, to be honest with yourself. Act and behave in a way that aligns with your values.
Asking the right questions to the brands and not pretending nothing's going on or is wrong with that particular brand. Pretending nothing is happening and turning your back to current problems we are living. Being accountable for our actions and helping reduce the negative impact the fashion industry has on the people who made our clothes and in our planet.
"In simplest terms, sustainability is about our children and our grandchildren, and the world we will leave them."

Source

As Céline Semaan, founder of Slow Factory and The Library: Study Hall
"Sustainability is a spectrum, a movement and a culture. Sustainability is a way of living and a way of doing business, rooted in deep and continuous learning. To us, sustainability is not about being perfect but about making progress towards systemic change."
As I mentioned at the beginning, sustainability is a very complex concept but ultimately. Sustainability seeks to protect the environment, people, and the world we are leaving for future generations.
The fashion industry is currently taking a huge turn and yes!…Because of COVID-19, many industries and behaviors are changing the way the fashion industry worked. Things will evolve, Better said, things are ALREADY EVOLVING… Have you heard about the contactless pizza service? or the Buy a new car and they deliver the car to your front door? How about our now common and constant zoom calls.
A More Sustainable Fashion Industry
The fashion Industry wont be the exception, perhaps consumption will reduce. We'll start to see things that really matter (climate change, excessive use of plastic). We'll pay more attention to what we put on our body –besides food– but the things we put on the largest organ of our body… which is our skin.
Perhaps if we see it this way, we would be more concern about what type of fabrics we put in our skin… is it oil-based type of fiber? or is it natural fiber. Does the brand is transparent and talks about supply chain? or at least shows a minimum of interest in letting consumers know about the process and where its materials come from?….. Ultimately the change and the decision is in ourselves.
I'd like to know what sustainability means to you! Let me know in the comments 👇🏻
Best Sustainable Clothes & Brands
Sustainable clothing may be one of the reasons you took the time to visit my website. I love to create styles and play around with my wardrobe, wear and re-wear what I already own. Don't get me wrong, I do like to shop and have new pretty things, but knowing where my clothes came from, and see if that specific brand aligns with my values. That for me has always been one of the main reasons why I love fashion. To clarify this statement , you can read this article to see more clearly my point of view. So…
How to Start a Sustainable Closet?
It's amazing how easy we can start building a sustainable closet. Because most sustainable clothes are the ones we already have in our closet. Let's start by playing around with it, love and re-love what we already own. Wear them as much as you can, exchange with friends and/or sisters if you can. This is one of the very first steps to start a sustainable fashion life. Easy right?
So, if you ever need a little inspiration, to see how to pair pieces or colors. Feel free to visit the blog or subscribe at the end of this page for weekly updates.
Thanks for catching up with me… see you this Friday.
You might like THIS ONE and this one THIS WAY
Editor's Note: This post was originally published in April 2020 and has been completely revamped and updated for accuracy and comprehensiveness.
Sign Up for Our Newsletters