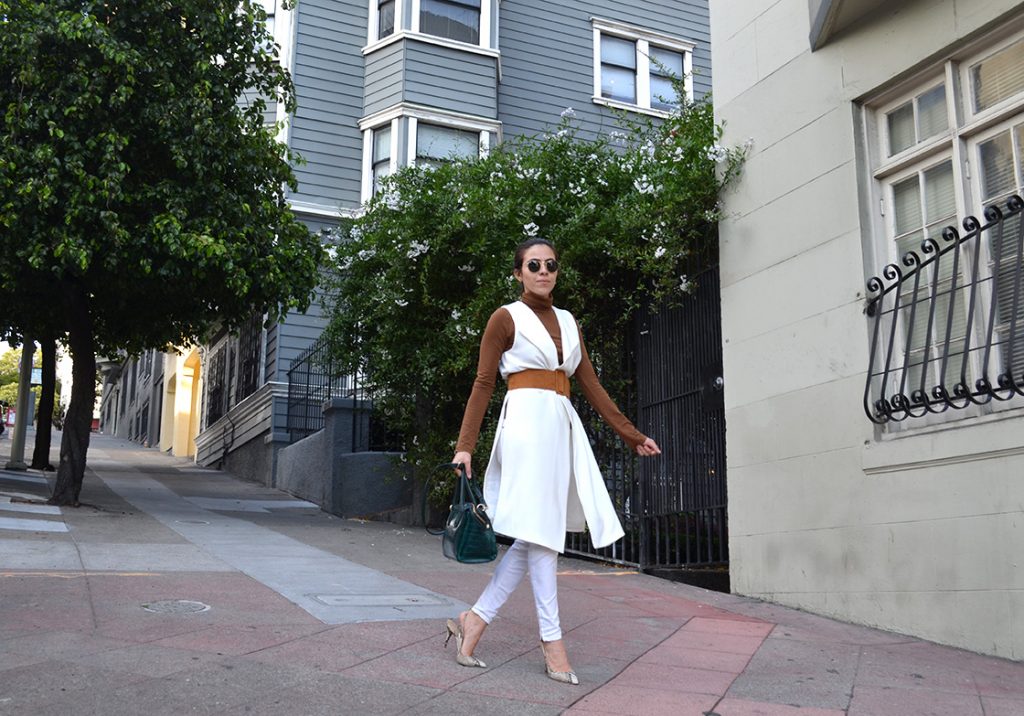 Long sleeveless vest.
The sleeveless jacket, vest, blazer has been one of the most popular pieces this year.
Sleeveless vest or jacket, whatever you prefer. This doesn't mean that you will be with bare arms around the city.
I'll recommend…
that if you have a garment of this type, opt for mixing it with colors in the same color palette. Maybe  playing with the textures of your outfit adding different accessories like a scarf or a belt. You can also do a hat.
We must know that there's different types of sleeveless blazers  for every season of the year. We can tell by the type of fabric. My favorite for this season is the wool, because of, two things: Lasts forever & warm enough for my city.
I have to confess, we shot this look the same day we shot this one HERE. Same day, different mood.
From an "off duty" kind of day. To a "wear To work" style.
The fabric of the skinny jeans is light as well as the turtle neck top. Not to mention the vest,  with both sides open to the waist. I wanted to accentuate the silhouette  resembling the classic "new look" of Dior.
Accentuating the waist with a velvet belt.
My go to…
shoe style is always a pair of pumps.  This type of shoe gives the appearance of a longer leg.
This is an elegant and stylish look to work. Leave the boring pants or skirts aside. You should make the santorial elegance yours!!. ASAP.
I'll leave you with some recommendations in case you want to adopt this look.
Be creative and savvy, did you see how easy it was to make a Sunday Morning Look to a Wear To Work Style?
!function(doc,s,id){ var e, p, cb; if(!doc.getElementById(id)) { e = doc.createElement(s); e.id = id; cb = new Date().getTime().toString(); p = '//shopsensewidget.shopstyle.com/widget-script.js?cb=1478713250737?cb=' + cb; e.src = p; doc.body.appendChild(e); } if(typeof window.ss_shopsense === 'object'){ if(doc.readyState === 'complete'){ window.ss_shopsense.init(); } } }(document, 'script', 'shopsensewidget-script');